Prestigious Honorary Doctorate for Outstanding Individuals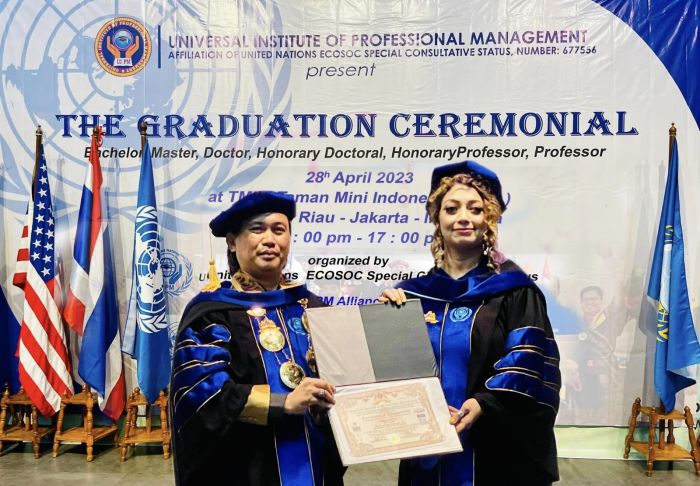 The Honorary Doctorate (honoris causa (dr. h.c.)) is awarded to outstanding individuals who have demonstrated outstanding contributions to their community at both local and international level. This Honorary Doctorate is an acknowledgement and appreciation for these outstanding individuals. UIPM aims to offer The Honorary Doctorate award to such individuals.

To be considered and nominated, a candidate must have sufficient stature and recognition to ensure that the awarding of an honorary doctorate is a worthy cause. Recipients of Honorary Doctorate does not earn this award through academic achievements; rather they receive these awards based on generous and altruistic actions or lifetime accomplishments that benefit a community, nation, or humanity in general. This award does not in any way confer or grant to the recipient of the UIPM Honorary Doctorate, any academic or educational value, and does not grant the recipient the same professional or academic privileges, but to acknowledge the outstanding achievement made by the recipient towards his/her contribution to the goodness that benefits the community and also to recognize the individual's personal successful achievements in his/her life.

All nominated candidates for this Honorary award, will go through a process of evaluation by the UIPM Board, to ensure that only those who meet the criteria for such awards are given the award. When considering a candidate for an honorary doctorate, UIPM will consider, among other things, an individual's outstanding contribution and achievements in terms of culture or to persons who have otherwise contributed to the welfare of humanity. All Honorary awardees will become Member of the UIPM Alumni, network of successful people, an an opportunity to network with outstanding people.

Benefits of getting the UIPM Honorary Doctorate award.
There are many great benefits for this Honorary award. Among them are . Recognition of achievements, Enhanced reputation, Networking opportunities, Inspiration to others. For a full detailed benefits, please read the 'Benefits of Honorary Doctorate' tab.

How to apply for nomination for the Honorary Doctorate?
To be considered as a candidate contact us by clicking here expressing your interest to be nominated for the Honorary Doctorate. Upon receipt of your request, details will be sent back to you and the relevant documents needed for the evaluation process.
There are Good Benefits for One To Get The Honorary Award
Recognition of achievements: An honorary doctorate is a prestigious award that acknowledges an individual's significant contributions to their field, society, or the university. It serves as a public recognition of their accomplishments and expertise.
Enhanced reputation: Receiving an honorary doctorate can enhance the recipient's reputation and credibility within their professional and academic circles. It can also lead to increased visibility and recognition in the media.
Networking opportunities: Honorary doctorate recipients often have the opportunity to connect with other accomplished individuals, including fellow honorees, university faculty, and alumni. These connections can lead to new collaborations, partnerships, or mentorship opportunities.
Platform for advocacy: With the increased visibility and credibility that comes with an honorary doctorate, recipients may find it easier to advocate for causes they are passionate about or to raise awareness about important issues in their field.
Inspiration to others: As role models, honorary doctorate recipients can inspire others to pursue their passions, strive for excellence, and make a positive impact on society.
Opportunities for engagement: Universities may invite honorary doctorate recipients to participate in events, guest lectures, or workshops, providing them with a platform to share their knowledge and experiences with students and faculty.
Personal satisfaction: Receiving an honorary doctorate can be a deeply rewarding experience for the recipient, as it validates their hard work, dedication, and achievements.
UIPM Honorary Doctorates are signed and acknowledged by Distinguished people, as we always provide value to the recipients of such honor.
It is important to note that an honorary doctorate is not the same as an earned doctorate and does not grant the recipient the same professional or academic privileges. However, it is a significant honor that recognizes the recipient's contributions and impact in their field.
All potential candidates must be nominated first before anything else. The potential awardees will need to fill up a form to apply for nomination.
To establish a comprehensive and fair application process for the Honorary Doctorate awards at UIPM, please use the following criteria:
Demonstrated Excellence: The nominee should have a proven track record of outstanding achievements in their field, such as business, academia, arts, sciences, or public service. This may include significant accomplishments, awards, or recognition at the national or international level.
Contribution to Society: The nominee should have made a substantial and positive impact on society through their work, philanthropy, or volunteer efforts.
Leadership and Mentorship: The nominee should have demonstrated exceptional leadership qualities and a commitment to mentoring others in their field. This may include guiding and inspiring students, colleagues, or other professionals to achieve their full potential.
Reputation and Integrity: The nominee should have a strong reputation for ethical conduct and integrity in their professional and personal life.
Letters of Recommendation: Require a letter of recommendation from reputable individuals who can attest to the nominee's achievements, contributions, and character.
Supporting Documentation: Require the submission of relevant supporting documents, such as a curriculum vitae, list of publications, or portfolio of work, to provide a comprehensive overview of the nominee's achievements and contributions.
Age criteria must be 39 and above.
Successful Candidates will be welcome as a member of the UIPM Alumni.
Application Review Process: UIPM, via its Board will review do the evaluating process for the awardee's applications. The whole process will be within 30 days from application date received, subject to all proper documents received.
Successful awardees, will be awarded the Honorary certificate via email and a hard copy will be awarded during the conferment event. (Details and terms will be given at a later date).
Successful awardees will also be treated to a Welcome event to welcome the awardees and also to create a Bonding session. Also, UIPM will explain about the UIPM Alumni, its purpose, it's mission and vision. Successful awardees will become member of UIPM Alumni.